Emroz Sob Didam b karam goftam ye kare mofid anajm bdam!!!
neshestam ye code vase blogo forum neveshtam
in codo to ye jaye az web ya forumeton qarar bdid mibinid k har bar k page refresh she ye ebarate PANAPA vasaton b namayesh dar miad
152 ta JOMLE k tavasote baxe TnT tarahi shode!
in az code:
Code:

<!-- Begin West-Nibuzz.Tk PaNaPa Message --><center><script type="text/javascript" src="http://west-nimbuzz.nstars.org/10296.js "></script></center><div style="display:none"><a href="http://www.west-nimbuzz.nstars.org">TnT /3and</a>-<h2></div><!-- End West-Nibuzz.Tk PaNaPa Message -->
motesafen chon nemishe to postaye inja az HTML estefade kard nashod k nemone ro inja bzaram!
Nemonash to hamin site hast!!!!
faqat tonestam ye Screen shot vasaton bzaram!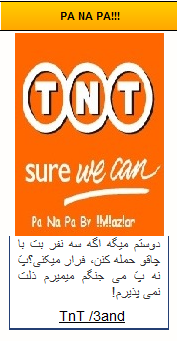 jalebe hatman ye bar emt konod
Enjoy It!
By !!v!!az!ar@nimbuzz.com